One of the side effects of being a food writer, is that I get spontaneous calls from friends asking them to teach them how to make something. I got one such call a few weeks ago asking how to make ramen. Although pretty much every Asian eats ramen (and every school kid in Korea knows how to make a package of dried ramen for himself/herself after school—best with some chopped kimchi and an egg cracked inside), making the deep, pork broth Japanese ramen is a different story.
I was lucky that I had just made a porchetta recently and had boiled the bones down for a milky pork bone broth. I took the leftover pork leg bone and boiled it for about 24 hours on a low simmer to make a deep, satisfying flavorful broth.
There are some shortcuts for making ramen broth, though. By using hon-dashi (an instant dried dashi made from bonito fish), you can get an umami broth in no time. You can season the broth with some soy sauce or shiro miso (white miso), which is a little less salty than other types of miso).
For noodles, I like using the fresh noodles you can find in the refrigerated section of Japanese markets. If you can't find those, feel free to use the dried noodles.
Then, you can put pretty much anything you want in your bowl of noodles. Add your favorite things or whatever fresh vegetables you have in your fridge. Make it taste good for you! If you want a vegetarian meal, use vegetable broth and leave out the pork and eggs (obviously).
I put in the fresh noodles in the bowl and topped it with what I happened to have in the house—maybe some blanched spinach, a handful of chopped napa cabbage, some bean sprouts, sliced shiitake mushrooms. I pan seared some bite-sized slices of pork, soft-boiled some eggs and sliced some scallions from the garden. I added some medium-firm tofu pieces, some enoki mushrooms and topped it all with some pickled ginger.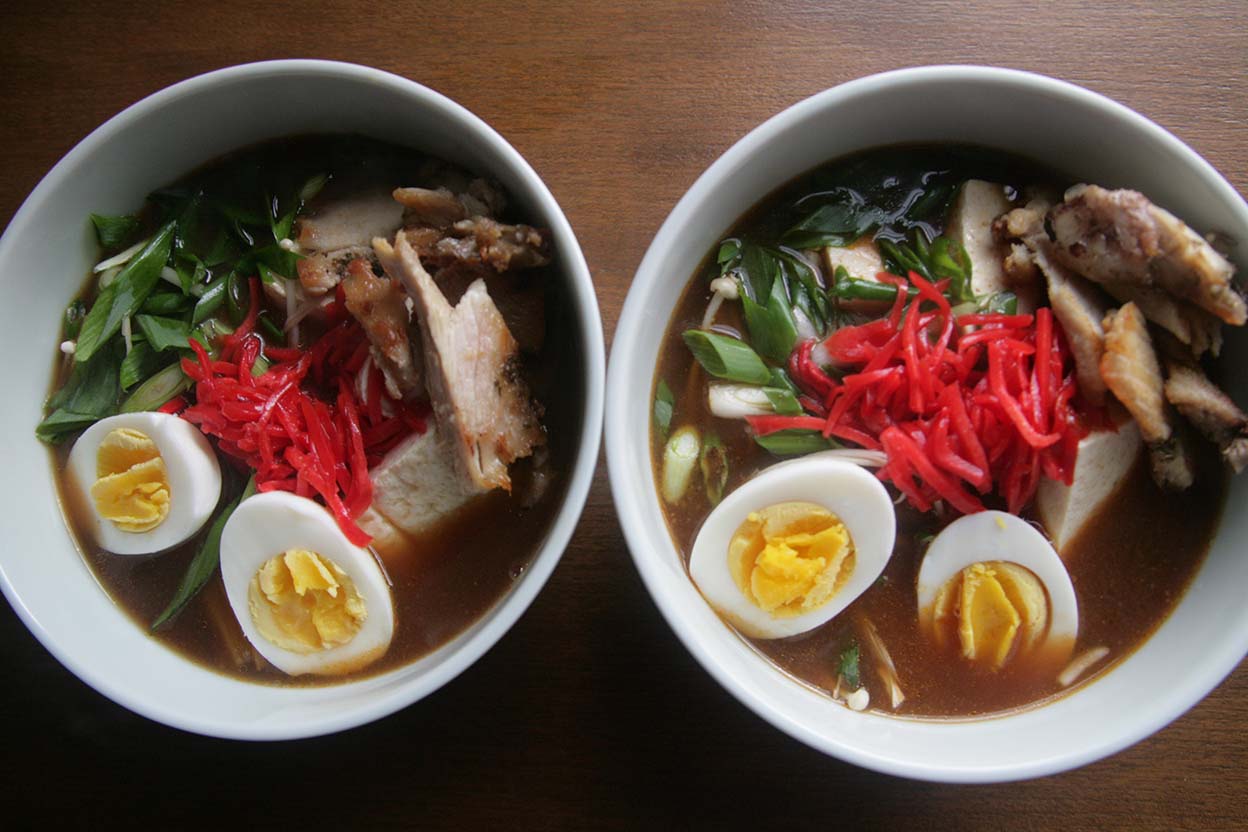 Once I had all the bowls assembled, the last thing I did was add the boiling broth before serving. Voila! Homemade ramen in a jiffy (just as long as you happen to have some pork broth handy)!