When I first got an email from Benjamin Lee, I thought for a second that my nine-year-old nephew had finally learned how to use email. "Lee" being a common name in Korea (second only to "Kim"), it only took a couple of seconds to realized that this Benjamin Lee was not a relation, but the youngest son of the owner of the BCD Tofu House. (On a side note: In the '70s, kids used to ask me if I was related to Bruce Lee. I always answered that he was my uncle and that they better not mess with me because he'd beat them up.)
After seeing my tofu article in the L.A. Times about artisan tofu makers in Southern California, he wanted me to try their latest organic tofu offerings to offer my professional opinion. In case you're wondering: Although there's nothing about the tofu-making process that may be considered "artificial," you have to start out with organic soybeans to get organic tofu.
We started with their tofu salad.
It had a good, light dressing and a fresh selection of greens. The tofu was tender on the inside, but fried on the outside. I thought the green olives were an odd addition, but overall, it would make a nice summer lunch.
While waiting for the other dishes to arrive, we had the side dishes (banchan). Their kimchi is especially made at each of their locations and I've always liked their spicy raw crab (gyejang), although it's super messy to eat.
I also tried their new kimchi that they're aiming to sell to the non-Korean market.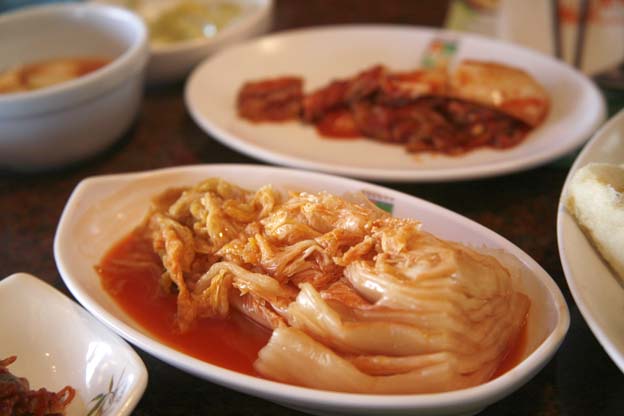 The whole point of it is that it has the flavor of kimchi without the spiciness. I'm not sure how successful they'll be in selling to a foreign market, since most people either love or hate kimchi. I found the taste disappointing, because I missed the pepper flakes, the texture and the pungent fishiness that gives kimchi its particular, distinct flavor. But it might be a good gateway to introduce children to kimchi, and some people who don't like spice, may like it.
Now, on to the soon dubu. We had the old-fashioned soon dubu, so that I can really get the flavor of the organic tofu.
Soon dubu, back in the olden days, was served white, not spicy, with a side of seasoned soy sauce (yangnyeom ganjang). Korean grandmas and grandpas get nostalgic when they taste the flavor. It's a good way to appreciate the subtle flavor of the tofu, but give me the spice any day.
So, we had the spicy soon dubu, too. Nothing like it when you're feeling blue and it's cold and rainy outside (It does rain in Los Angeles, occasionally!).
But on a steamy, hot summer day, I prefer a large bowl of cold noodles in a soy broth (kohng gooksu).??Some young people don't like it so much because they don't appreciate the subtle soy flavor, so BCD made theirs with ground black sesame seeds in the broth. Gave it an interesting grey color, but a more complex and nuttier flavor.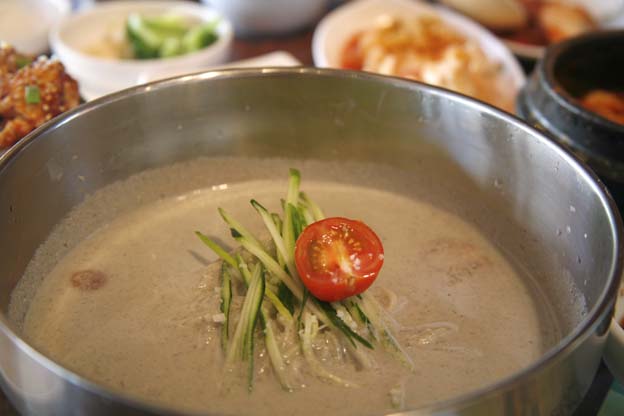 All in all, I liked the new organic tofu offerings at BCD. Not because I think there's such a big difference in flavor between organic and non-organic dubu (esp., when the tofu is made fresh), but because I think it's great that restaurants are thinking about the details and the source of our food.
So, if you want to see if you can taste the difference in organic vs. non-organic tofus, there are BCD locations in SoCal, Seattle, Korea and Japan. And they're opening one in New York as well.
p.s. My nephew, Benjamin Lee, has just learned how to use email, but all he seems to do is send me pictures of chickens and hamsters!