I had the joy of attending the Fancy Food Show a couple of weeks ago and ate more gourmet food than a girl should be allowed to in 3 days.
Tucked in a small corner of the Javits Center were the real secrets of the culinary market'Äîsmall independent purveyors directly selling their wares, packaging their grandmother's secret recipe or trying to fulfill a dream with a newly bottled sauce or a blend of exciting spices.
Robert Kim was one of those people literally sharing his halmuhni's secret recipe for making boolgogi-flavored beef jerky.
If you're not Korean, you may not know about the Korean propensity for beef jerky, which is a popular anju (drinking snack). Koreans returning from America used to fill their giant luggage with enough coffee, make-up and beef jerky to bring back to their waiting family back home.
Now that there are Costco stores in Korea and beef jerky is more easily accessible, we don't have to pack as much dried meat for the journey home, but we still do love the smoky, salty, spicy dried stuff.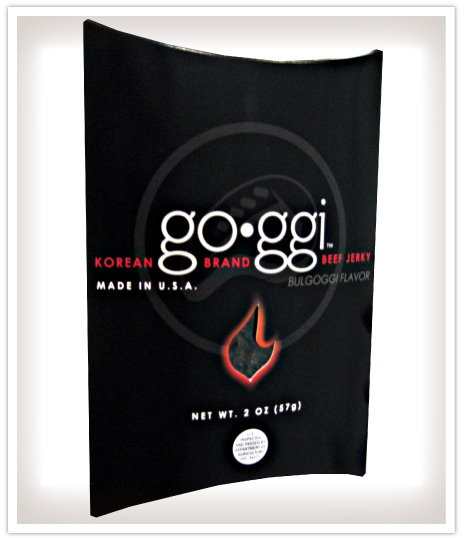 Go'Ä¢ggi (which means "meat" in Korean) is a dried beef round seasoned like boolgogi (sweet, salty with a bit of spice). Robert found a factory in New Mexico to make it like his grandma used to make it and now you can try that homemade taste, too.
It sells for about $9 to $10 for a 2-ounce package mostly in New York, with select markets in Connecticut, Massachusetts, Pennsylvania and California with wider distribution coming, hopefully, soon. You can see the full list here.
Photos courtesy of Go•ggi.