One of my favorite places to eat in Seoul isn't a fancy new restaurant by a celebrity chef or even a hole in the wall ramen shop in a hidden corner, it's the open food vendors in Gwangjang Market.
Gwngjang Shijang is the oldest traditional market in the country. It used to be an open-air market until several years ago, when they built a covering for it, making it more permanent and convenient during rain and snow.
It's now known for the miles and miles of fabric, blankets, and hanbok sold here by the various vendors. (The second floor has some vintage clothing shops, too!) They even have the cutest ones for kids and you can get them custom made here, too.
As much as I love running my hand over smooth silk and cool cotton, I'm usually here for the food.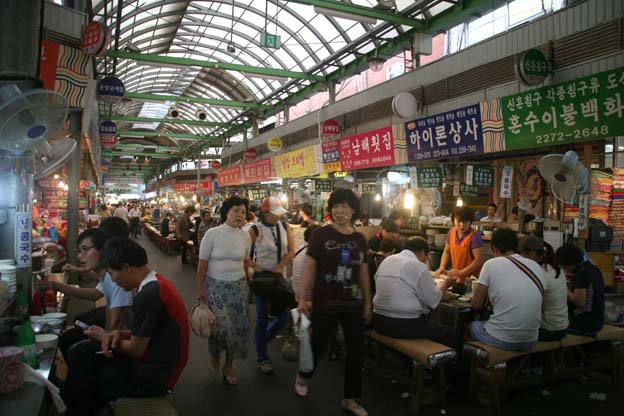 This is Korea's idea of an "open kitchen." Literally wide open with piles of fresh greens and namul ready to be piled onto your giant bowl of bibimbap.
Ajummas slave away on giant griddles making nokdu buchingae (mungbean flatcakes) that are larger than your face.
You can just pull up to one of the benches here and just point at things and eat them. No Korean required.
On one side, you can choose from a pile of shoes. Then just turn around and see a woman slicing up soondae (Korean blood sausages) and nakji (octopus) for you to dip in a bit of salt or a salty shrimp brine.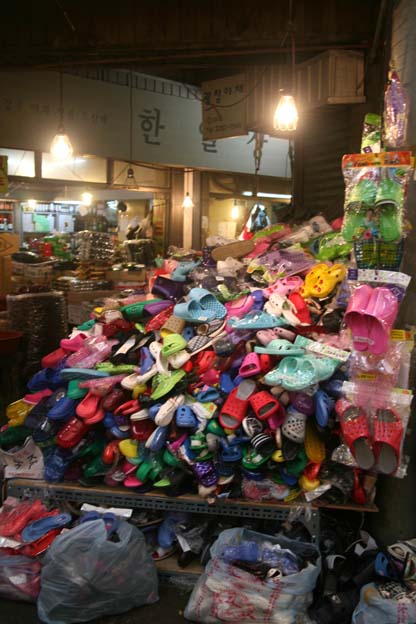 They have "mayak gimbap," saying that their rice rolled in seaweed is addictive as a drug. And for only 2000 won a plate (less than 2 bucks!). It's no wonder that the kids crowd her after school in their uniforms.
There are places to eat ddeokbokgi, all manners of flat cakes (jeon or buchingae), bibimbap (mixed rice bowls) and more. Sure beats any food court in any mall I've ever seen.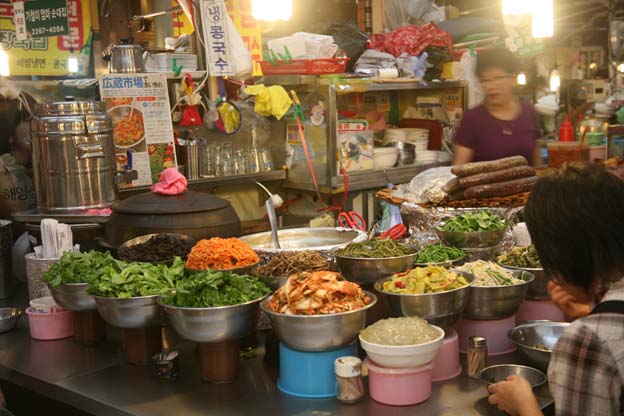 I worry that the Starbucks and McDonalds will edge out traditional Korean culture. But when I go to the crowded traditional markets and see ajummas and ajuhssis chowing down on bowls of food, I worry a little less. It makes me happy to see the traditional way of life in Seoul hasn't been completely eradicated yet. But I worry because it's the middle-aged who keep the traditions alive, while the young spend their money at giant department stores and Dunkin' Donuts.
I prefer to eat at the open markets like Gwangjang Shijang, where I can get a variety of delicious choices for very little money. But then again, I guess I AM an ajumma already!
Those of you who want to join me at the shijang, here are directions:
To get to Gwangjang Shijang take the subway, line 1 to Jongno 5(o)-ga (exit 7. Take the first right and keep walking until you see the sign. Although the signs say that the market is open 6am-6pm Mon-Sat (closed Sunday), most vendors run 7 to 7 hours here. Food vendors do the most business 10am-6pm, but the hours are loose and vary.
This will be included in my latest travel guide, Frommer's Day-by-Day Seoul in the special "Gastronomic" section, in which I take you to my favorite food and eating places in the city. Coming Spring 2011!