Although not worth a special trip on its own, if you happen to be visiting Anseong, stop in at the Seoilnong-won. It's an old-fashioned farm that's been updated for visitors to see how "dwenjang," Korea's fermented soybean paste is made. And they do it the old-fashioned way.
The traditional way of making dwenjang was to take dried soybeans, boil them, then grind them with a large stone mill into coarse bits. Then, the paste is formed into bricks called "meju" and left to dry (the air circulation helps with the fermentation process). A couple of months later (depending on the size of the meju), the meju and some added birne are put into large brown pots (hang-alli) and left covered in the sunlight to ferment further. The pottery allowed for a bit of circulation of air, while keeping bugs and other undesirables away.
When the fermentation process is complete, the liquid and solids are separated. The liquid becomes Korean soy sauce (ganjang) and the solids make dwenjang. Although Korean soybean paste is often compared to Japanese miso, dwenjang is chunkier and has bits of soybean in it. It's actually more akin to the Chinese dajiang, popular in Northeastern Chinese provinces.
Dwenjang can be eaten as a dip with fresh vegetables (like carrots, cucumber and green chile peppers) or used to make a salty stew, called "dwenjang jjigae." You might have seen a side of seasoned dwenjang to add to your meat and lettuce wrap at your favorite Korean barbecue restaurant.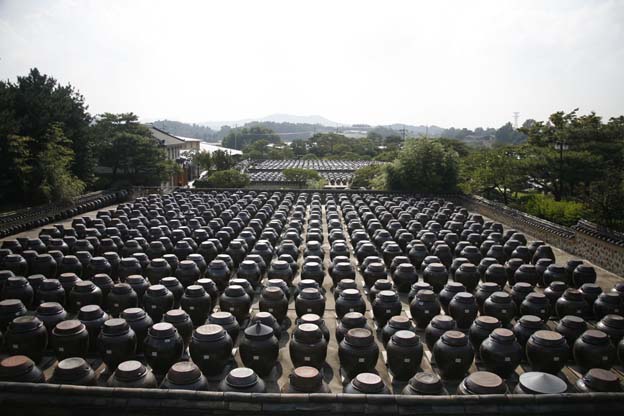 At the Seoilnong-won are some old farm implements, a well and a small pear orchard. But the big draw are the rows and rows of dark-brown hang-alli filled with the dwenjang, hanging out in the sunlight.
The best time to visit is on a Saturday (April-October) when Anseong Namsadang Nori offer free performances all day at the nearby village.