That's right. Dried. Kimchi. I did a double take when I was perusing the aisles of Trader Joe's. Professional curiosity got the better of me, and the package ended up in my basket. I left it on the table for a couple of days before opening it up.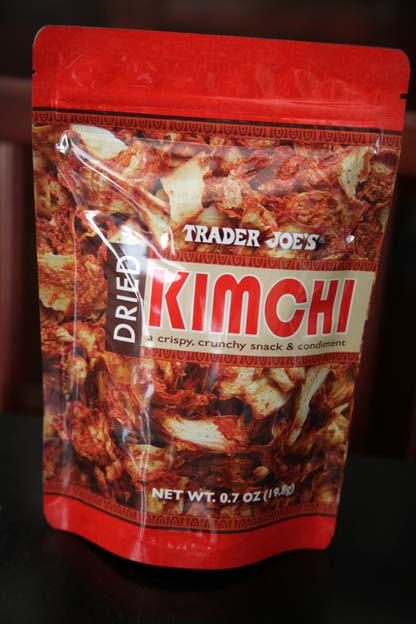 I opened the package and peered inside. It looks just like what you would expect dried kimchi to look like. I wondered why they would make a product like this. The package suggests using it as a condiment, putting it in your ramen. Why would you do that when you can put in real, plump juicy kimchi?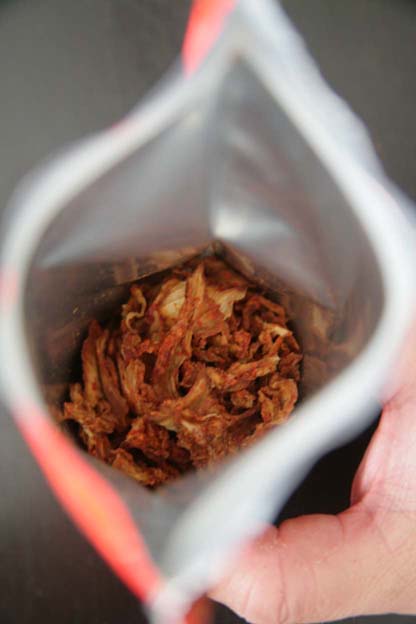 I poured it out and the entire contents of the $3.99 package fit into a small bowl. It smelled vaugely like kimchi, but didn't have that delicious pungent odor you would expect from opening a package.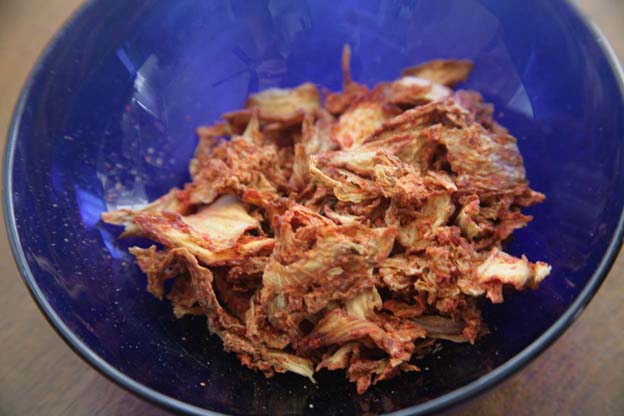 But how does it taste? Would it be too obviously to say that it tastes like freeze dried kimchi? They did to kimchi what they did to ice cream to make it useful for astronauts. They sucked all the liquid out of it and made it a dry and crispy husk of its former self. The first thing that struck me was how salty it was.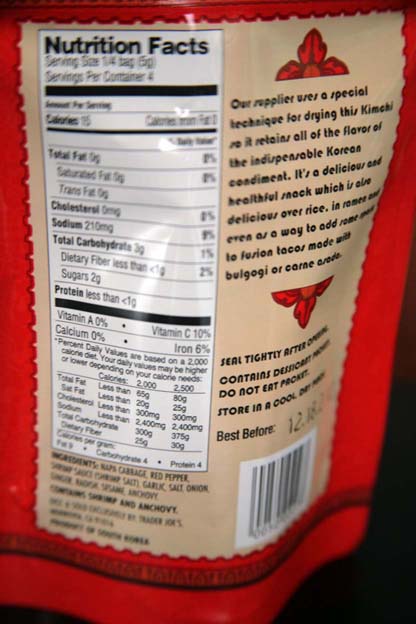 I turned over the package and gasped for two reasons. 1) This tiny package supposedly had a serving size of 4. Obviously, not designed for Koreans. And, 2) the sodium content was astronomical — 2,400 mg per serving! Now, I understood why the serving size was 1/4 teaspoon. 2,400 mg is the US recommended daily allowance of sodium per person. I don't think they could, in good conscience, offer a product that had a per serving content of more than the US RDA of salt. Although they call it a "delicious and healthful snack." I would not call it delicious. I would not call it healthful. And I would definitely not call it a snack.
I wondered what quality of kimchi they used to dry in the first place. The next time my mom comes over with her baechu kimchi, I may have to get out the food dehydrator and find out what happens. In the meantime, I may have to figure out a delicious use for dried kimchi. Got any ideas?